In 1998, Hasbro copyrighted its instructions for the Bop It Extreme, describing the underlying patents as "pending." This game included the additional commands "Flick it!" (a green zigzag lever) and "Spin it!" (a red wheel) along with the original three from Bop It. The game featured 4 games modes (Vox Bop, Beat Bop, Vox Bop Solo and Beat Bop Solo), and the maximum score (reported via cipher) was increased to 250. As with the earlier Bop It model, special victory songs were unlocked upon completion. Thus, achieving a high score rewards the player with an additional victory song before the announcement of the high score. On reaching 150 inputs, a victory celebration plays, and achievement of the maximum score would trigger a different special victory ending. This device requires 3 AA batteries.
In 2003, this model was one of the top games in the market.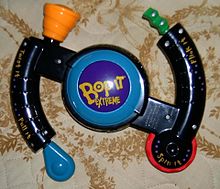 Losing Lines
Edit
"Dude!"
"Oh, boy!"
"Do it the same but, uh, better!"
"Game over!"
"Hey, you win! NOT."
"Bummer."
"Killer, dude!"
"Nice going!"
"You're out."